PA Online Casinos Almost Reached $172 Million in August; Slot Revenue Surpasses $1 Billion
85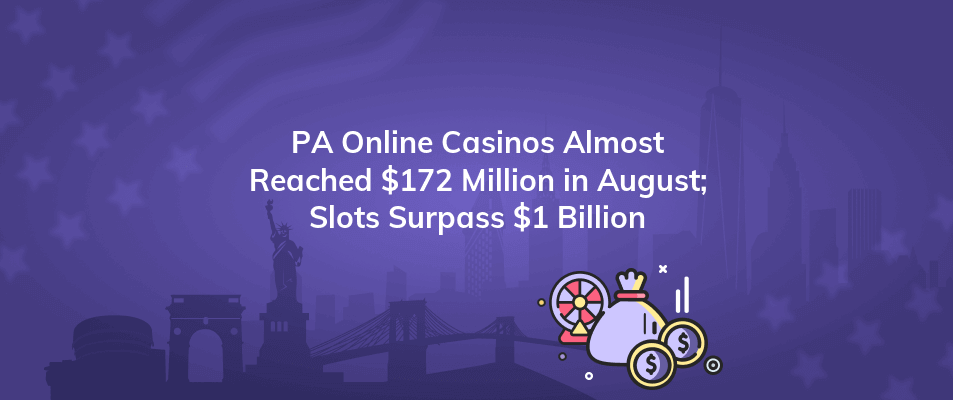 Pennsylvania's online casinos had a major recovery after a weak July. According to the Pennsylvania Gaming Control Board (PGCB), online casino operators made $171.9 million in revenue in August. In the meantime, slot machine revenue at online casinos topped $1 billion in 2023.
It is the state's second-highest figure of all time, the first was the record-breaking month of March 2022 ($181.5 million).
Pennsylvania's online casinos missed their $160 million revenue goal for July, but they quickly got back on track before the start of the fall season. August is normally perceived as a rather slow month for gaming, but Pennsylvania's online casinos are still putting up excellent statistics.
This August, PA online casinos made their second-largest monthly total to date as a result of a strong comeback. Gross revenue from PA casino applications for the month was close to $172 million. This figure was up 9.5% from the previous month and up 30.6% from the previous year. Eight of the past nine months have seen at least $160 million in revenues from PA online casinos, and August saw the state surpass $1 billion in annual online slot income. September shouldn't see a slowdown in the state's growth because many operators are running NFL-related crossover promotions.
After August's $132.2 million total for the vertical, Pennsylvania online casinos crossed the $1 billion mark for slot revenue. For instance, it took until October of 2022 for online slot revenue to surpass $1 billion. Players are encouraged to continue playing since PA online casinos are continually updating and adding new slots to their catalogs.
Revenue Breakdown for August 2023
Here's a market segment revenue breakdown for August 2023:
Revenue from online slots amounted to $132,231,523 million;
Revenue from table games amounted to $37,269,167 million;
Revenue from online poker amounted to $2,440,714 million.