Dan Frankel is Absolutely Certain that the PA Casino Smoking Bill Will Pass
37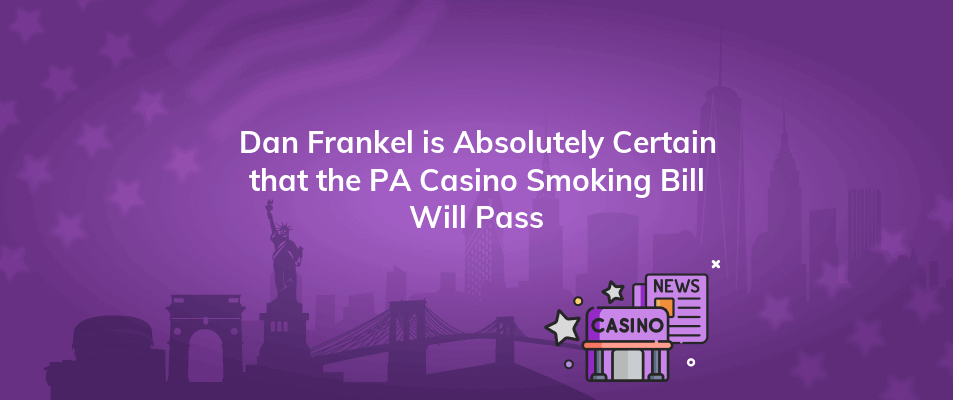 There is growing momentum behind the argument against smoking at Pennsylvanian casinos. Representative Dan Frankel, a Democrat from Allegheny County, will be conducting a vote to advance House Bill 1657 at the meeting on November 15. The Smoking in Pennsylvania Casinos Act, also known as the Protecting Workers from Secondhand Smoke Act, would essentially outlaw smoking there.
Frankel also talked about the agenda for the next meeting and told what would happen if the measure is approved.
There Will Be a Vote by the Health Committee to Outlaw Smoking at PA Casinos
The Clean Indoor Air Act of 2008's loopholes are being contested by House Bill 1657. With the passage of the legislation, smoking was no longer permitted inside, with the following exceptions:
casinos;
exclusive clubs;
hotels;
home daycare centers;
bars for Veterans of Foreign Wars (VFW);
bars without a food menu (or where food makes up no more than 15% of revenues).
To get the measure out of the committee and onto the House floor, Frankel, who also serves as the majority head of the health committee, is calling a meeting. There will be 25 voters in total at the meeting, with 14 of them being Democrats and the remaining four being Republicans.
According to Frankel, the measure will be discussed with each of the 25 people present. Every member has the opportunity to submit changes to the measure, which are then put to a vote one at a time. After that, the measure is once again offered for discussion with the modifications made. The measure is moved ahead with a simple majority.
Frankel added that he's 100% positive the measure would come out of committee with an affirmative vote and he's quite optimistic that they will have bipartisan support. Though it may not be unanimous, both parties will back them.
Frankel continued by saying that he had never introduced a measure that was rejected in committee.