The Pennsylvania Gambling Industry Sets Records in March Sales of $515.3 Million
160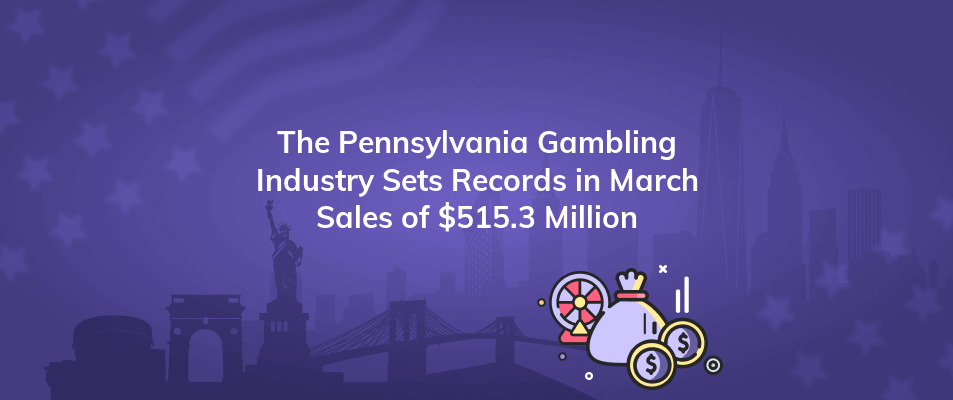 March marked a turning point for PA's gambling market as it saw its first-ever monthly revenue of over $500 million.
Gambling Revenue in Pennsylvania Reached a Record $515.3 Million in March
According to a report from the PGCB that was made public on April 18, $515.3 million in revenue was amassed by the various gaming industries, including traditional casinos, iGaming, video game terminals, sportsbooks, and fantasy sports competitions.
The income was far higher than the previous record of $475 million set in December. The government also received $212.4 million in taxes on PA's losses in March as a result of the combined tax rate of 41% from the various kinds of gaming.
$311.3 million of the $515.3 million in revenue raked in during the previous month came from slots and table games at traditional casinos, $148.2 million came from online casinos, $50.6 million came from sportsbooks, $3.8 million came from video gaming terminals, and $1.4 came million from fantasy sports competitions.
Online Casinos Surpass Traditional Establishments in Revenue, Setting a New Record
The PA online casinos smashed their previous record for revenue by 10%, reaching $148.2 million, an increase of 10.1% above the previous high of $134.6 million recorded in December. 2022 has seen several occasions where iGaming has achieved new monthly highs. Due to its popularity, the traditional casino industry's income has remained mostly unchanged and hasn't risen despite the opening of new casinos.
The 17 casinos spread out over the state brought in $311.3 million in revenue in March, with $225.4 million coming from slots and $85.9 million from table games. While being 12.2% more than the short month before, this total revenue was only marginally greater than the $309 million reported in March 2022, before Parx Shippensburg opened.